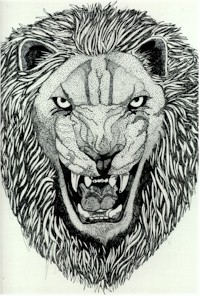 Lion by Pam Taylor
Our official logo has 1 Peter 5:8 under the magnifying glass. This verse, along with being our theme, is where our name is derived from. As Christians, we are warned to be on guard against the devil – the roaring lion – which means we must be aware of his deceptions AND especially be grounded in God's Truth. The magnifying glass of God's Word enables all Christians to examine any of the devil's foot prints (namely his activities and whereabouts) — thus the name Lion Tracks.
1 Peter 5:8
Be sober, be vigilant; because your adversary the devil walks about like a roaring lion, seeking whom he may devour.
The Lion Tracks logo was designed
in 1991 by graphic designer
Mark MacDonald (Brent's brother).